For Private Clients   |   Protection & Privacy
JP Schweizer SA can help you protect your loved ones, your belongings and the planet.
Our window films noticeably improve style, functionality
and energy efficiency of your glazing.
---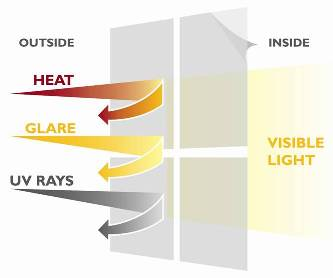 Control the Sun
Windows are an essential part of each home, not just for letting in light, but also for the views they offer. However, they can also cause a variety of problems such as:
Excessive Glare
Heat restitution
High energy dispersion
Furniture Fading
Our protective films can help you dealing with these problems.

Save up to 40% of your Energy Costs!
Windows play an important role when it comes to heat and energy regulation inside your home. According to Minergie, almost 50% of the energy consumption is wasted due to a loss/gain of heat caused by non-treated glass. Our window films allow you to reduce the cost of heating and air-conditioning while strengthening the insulation capability of your glazing.

Do not miss out on your View
Open your curtains and let the sunlight in! Our protection films reduce the glare up to 87%, allowing you to easily watch TV or work on your computer. The wide range of films available allows you to enjoy the view without even noticing their presence on your windows.

Block the harmful effects of UV rays
Most upholsteries, furniture, and pieces of art can be damaged or faded simply by letting in light through non-treated glass. By blocking more than 99% of all UV rays, our anti-UV films allow you to maintain the color of your furniture, upholsteries and carpets, and protect them from fading and aging. UV rays are also dangerous for our health (skin aging, cancer, etc.). The UVShield™ technology of our films has been specifically designed for your protection, just as a sunblock would do.