Sun Control Window Films
Sun Protection Window Films provide a pleasant temperature inside buildings.
They also protect people and merchandise from the undesirable effects of UV-rays, which can be damaging and costly.
---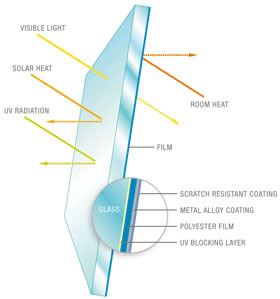 Control the Sun
Our architectural sun control window films are designed to protect against dangerous UV rays, heat and glare. They enable you to reduce your electricity bills and give your building a new look.
They reject up to 80% of the heat
They preserve the freshness of living spaces
Reduction of your electricity bills
Different types available adapted to suit all kind of needs

Reduction of Energetic Balance
During the winter, our sun control window films reduce heat loss up to 30%. In the summer, they reduce air conditioning costs by rejecting up to 80% of the sun's heat.

Heat and Glare
Our films help correct the instability of temperatures between the sunny and shady areas of a building and divert annoying glares.

Fade Reduction
Our films filter up to 99.9% of dangerous UV rays, which cause the fading of structures, furniture and product shelves.

Design
Our window films can give a brand new look to buildings for a fraction of the price of construction work and without having to relocate tenants.

Protect your private space
Our reflective sun control films let the light pass through while protecting your privacy (one-way mirror effect). Different shades of tinted glass are also available.